Fallbrook Animal Lodge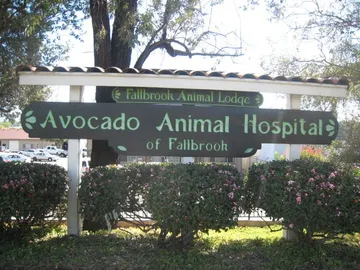 Fallbrook Animal Lodge is part of Avocado Animal Hospital
Avocado Animal Lodge is an economical, secure environment for your pet while you're away. Our Lodge is open Monday-Friday from 9:00am to 5:00pm, Saturday 9:00am to 12:00pm and closed on Sundays.
What Our Lodge provides:
Separate facilities for dogs and cats

Seven individual rooms equipped with stainless steel cages, runs of 3 sizes to supply adequate exercise area and housing for all breeds

Completely separate wards insure easy cleaning, sanitation and disease control

Immediate veterinary care provided by the adjacent animal hospital

Capable, well trained staff who can detect any developing health problems

Daily charts for each pet to record appetite, water intake, eliminations, medication and supplements

Professional bathing available for dogs and cats

Individual playtime in fenced field on the same property

A heating and air conditioning system that features automatic temperature control, fresh air exchange 30 times an hour and separate airflow to each ward to minimize the chance of contagious disease

Smoke alarms

High-pressure spray and fogging machines for effective disinfecting

A walk-on digital scale to determine your pet's weight upon admission and to monitor weight loss or gain during prolonged boarding

Medical boarding, experienced staff to administer medications and provide professional care while boarding
Requirements to boards pets with us:
Current vaccinations for all boarders, for their protection and that of the other pets in residence.
DOGS -
DHLPPC(Distemper, Hepatitis, Leptospirosis, Parainfluenza, Parvo, Corona)
Bordatella
Rabies vaccine
CATS -
FVRCP(Feline Rhinotracheitis, Calic, Chylamdia)
FELV(Feline Leukemia)
Rabies vaccine
All pets to enter clean and free of external and internal parasites